As we move into the last quarter of 2022 we have taken the opportunity to pause and look back at the key developments that have impacted the industry this year as well as give some thought to the direction of the market.
The firmwide private equity practice has fed into this review allowing us to cover topics across the spectrum of house issues, fundraising, deployment of capital as well as general advisory issues. We hope that this will give you a unique insight into the state of the overall private equity environment from a legal perceptive. 
The full list of topics covered in the review document is available below. If you are interested in receiving a copy of the review, please get in touch.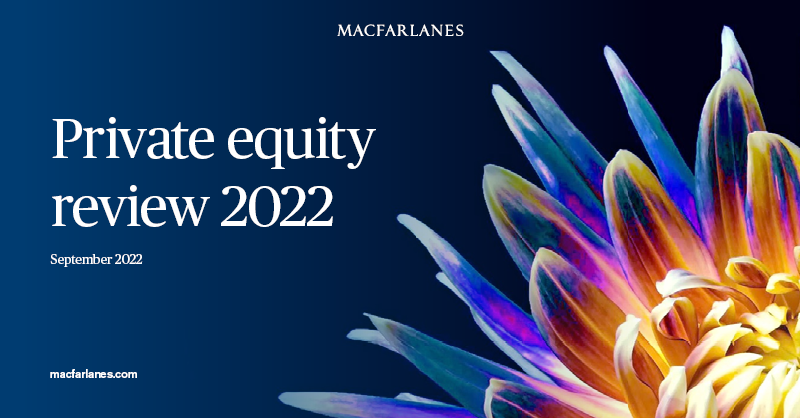 Policy issues that will impact private equity
Succession planning and GP stake sales
BEPS 2.0: Pillar Two implementation marches on 
UK non-domiciliaries
Recent Bluecrest case on salaried members
Data privacy
Fundraising environment 
Fund structure 
Retail capital; international regulation of the private fund industry
Co-investment continues to grow 
Legislating for GP-led transactions at the start of a fund's lifecycle
Carried interest tax changes
GP support financing options
Planned Solvency II reforms aim to unlock capital for investment
Government consults on sovereign immunity reform
Longer-term capital vehicles for real estate funds
Professionalisation of family offices and changes in investment habits
Continuation fund transfers
Ordinary course fund to fund transfers
Leveraged buyouts 
Rollover Co-Investments 
Take privates 
Acquisition finance
Direct lending and debt trading
Special situations / special opportunities 
Private equity real estate
The metaverse market opportunity
Are regulatory clouds looming for private equity acquisitions?
Litigation finance is becoming a mainstream investment class
Disputes risks
Sanctions
Restructuring activity likely to increase
Outsourcing trends: getting stuff done, reducing costs, creating value and securing digital advantage
Employment status
Holiday pay
Industrial action 
Task force on climate-related financial disclosures
Greenwashing
Data collection and the UN PRI Factor Map for private equity 
Private equity, nature and biodiversity 
ESG and the Internal Capital Adequacy Risk Assessment 
ESG and remuneration
The new way private equity adds value?
;